PLOT FOR PEACE IS NOW AVAILABLE TO WATCH ON DEMAND IN SEVERAL COUNTRIES & LANGUAGES
Jean Yves Ollivier's key incentive for telling his story some 30 years after the events have occurred, is that people both in South Africa and around the world learn of these crucial behind-the-scenes negotiations and the determination and hard work of several people to bring Apartheid to an end. Most important of all however, he hopes that he incites the younger generation to take action, to fight for change and not to sit idly behind their computers if they wish for thier countries hardships to improve. His story, and the story of many others told in the first person and through rare archive footage and interviews can now be viewed in several languages around the world.
We are extremely excited to announce that Plot for Peace is available to watch on NETFLIX in the following countries with more constantly being added to the list below.
United Kingdom
United States of America
Germany
Spain
Australia
New Zealand
Netherlands
Brazil
Norway
Mexico
IT IS ALSO AVAILABLE TO WATCH ON DVD IN CHINESE AND MANY OTHER LANGUAGES
The DVD has subtitle options in English, French, German, Spanish, Chinese, Japanese and Arabic.
Click on the DVD cover to watch the Chinese trailer.
To watch the trailer in other languages click here.
PHOTOS from UNITED NATIONS SCREENING OF PLOT FOR PEACE – May 26, 2015

Before the screening of the film, the Permanent Representative of the Congo to the UN delivered a tribute to the efforts and significance of the 1988 Brazzaville Protocol, to Jean-Yves Ollivier for his secret parallel exercise in diplomacy and recognised the indispensable contributions Denis Sassou Nguesso made to the peace of South Africa.

"I wish to extend, to all of you, my heartfelt gratitude for honouring Congo and the [Brazzaville] Foundation by your large presence on this symbolic UN premises, the World centre for peace, to share the experience of secret diplomacy which drastically changed the course of a history in Southern Africa."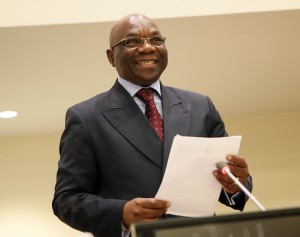 Permanent Representative of the Republic of Congo to the United Nations, Ambassador Francois Balumuene speaking before the screening.
The film was followed by a Q&A with a distinguished panel including Pierre Oba, the Republic of Congo Minister of Mines and Mining Development, Jean-Yves Ollivier, Ambassador Francois Balumuene and Dr Judy Kuriansky.
(L-R) ) Permanent Representative of The Republic of Congo to the U.N. Ambassador Francois Balumuene, moderator Dr. Judy Kuriansky, Republic of Congo Minister of Mines and Geology Pierre Oba, and film subject Jean-Yves Ollivier
Jean-Yves Ollivier co-hosted the event as the Chairman of the Brazzaville Foundation and subject of the film. He expressed his deepest thanks to Pierre Oba who was his secret companion throughout all the behind-the-scenes negotiations of parallel diplomacy.
A recording of the Opening Remarks and the Q&A discussion can be viewed individually via the United Nations web.tv. Please click on the links to watch the webcasts.
JEAN-YVES OLLIVIER IN ATTENDANCE AT THE UNITED NATIONS SCREENING OF PLOT FOR PEACE ON MAY 26th, 2015

To celebrate the United Nations World Africa Week and Africa Day (May 25th), Plot for Peace will be screening  at the United Nations on May 26th, 2015 with Jean-Yves Ollivier and esteemed guests in attendance. The event is hosted by the Brazzaville Foundation for peace and conservation and the Permanent Mission of the Congo to the United Nations. This historic event will commemorate the significant role the UN played in securing peace and stability in South Africa in the 1980s and celebrates the integral role many UN ambassadors played in achieving this. A Q&A with Jean-Yves Ollivier will follow this very special screening in front of many of those involved in the signing of the 1988 Brazzaville Protocol Agreement and the UN Tripartite Agreement (1988), both of which marked an end to the wars within the Frontline States ultimately leading to South Africa's peaceful transition to democracy.  The Ichikowitz Family Foundation is honoured that PLOT FOR PEACE will now form part of the United Nations historic record and archive. Ivor Ichikowitz, Chairman of the Foundation states, "Such commemorations reinforce the critical role of the United Nations and allow us all to explore how we may practically advance towards greater peace and prosperity across the globe.

Variety Picks Plot For Peace as one of the Contenders for Documentary Feature for the Academy Awards
We're overjoyed with this news today and our fingers crossed – thanks to everyone for their support of the film. Follow us on the film's official Facebook page for all immediate news, press and updates. Click here to read the online version.

Special Advanced Screenings of Plot For Peace in the US PLUS Q&As with Esteemed Guests

Thursday, 30th October,  Los Angeles – Hudson Union Society Preview Screening with Q&A
On October 30th, the prestigious Hudson Union Society held a private screening with a fascinating and in-depth conversation with co-director and producer of the film, Mandy Jacobson. Click on the image below to listen to the post-screening talk + Q&A on the Plot For Peace SoundCloud.


Tuesday, 14th October, Los Angeles – IDA.org Screening with MAtt Holzman + Q&A with Jean-Yves Ollivier
We were honoured to be able to host a screening for the members of the special and prestigious International Documentary Association (IDA) hosted by none other than KCRW's Matt Holzman. Thanks to INDIEWIRE we have the highlights from the conversation below. Please click on the image below or on the link HERE to watch the clips.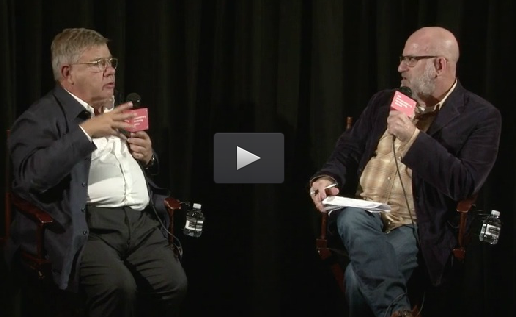 Friday, 26th September, 2014, Washington DC – Jean Yves Ollivier at the Congressional Black Caucus
During a special session of the Congressional Black Caucus hosted by Rep Karen Bass, Ranking Member, House Africa Subcommittee, Mr. Jean-Yves Ollivier attended the Africa Braintrust session entitled "The Histoirc U.S. – Africa Leaders Summit: Looking Back – Moving Forward." The keynote address was made by Ambassador Johnnie Carson, Assistant Secretary of State for the Bureau of African Affairs (2009-2013). The first panel discussion was focused on 'A Deeper Engagement with Africa: Moving Beyond the Summit".

Tuesday 23rd September, New York – The Brazzaville Foundation's Presents Plot For Peace
Last week , New York's Africa Center , 'Africa's embassy to the World' was home to the launch of the Brazzaville Foundation and a special advanced screening of Plot For Peace. The screening was then followed by a panel discussion chaired by Dr. Omar Wasow of Princeton University, featuring ANC activist and leader Dr. Matthews Phosa  (whose interviews also feature in the film) and Jean Yves Ollivier. The foundation draws its inspiration from the Brazzaville Accord signing on the 16th December 1988, "the culmination of years of behind-the-scenes negotiations aimed at bringing about the end of apartheid and white-only rule in South Africa. The Accord was the cornerstone in the creation of modern South Africa, finalising the process of political emancipation for millions of South Africans." For more information about The Brazzaville Foundation visit www.brazzavillefoundation.org. Watch this short video of AUDIENCE REACTIONS from the night on our YouTube channel.
As Patron of the Brazzaville Foundation, HRH Prince Michael of Kent also attended the screening along with Lord Tim Bell among many other guests who seemed to be captivated by the film and asked many questions. See below for just a few photos from the event  or to see more visit fb.com/plotforpeace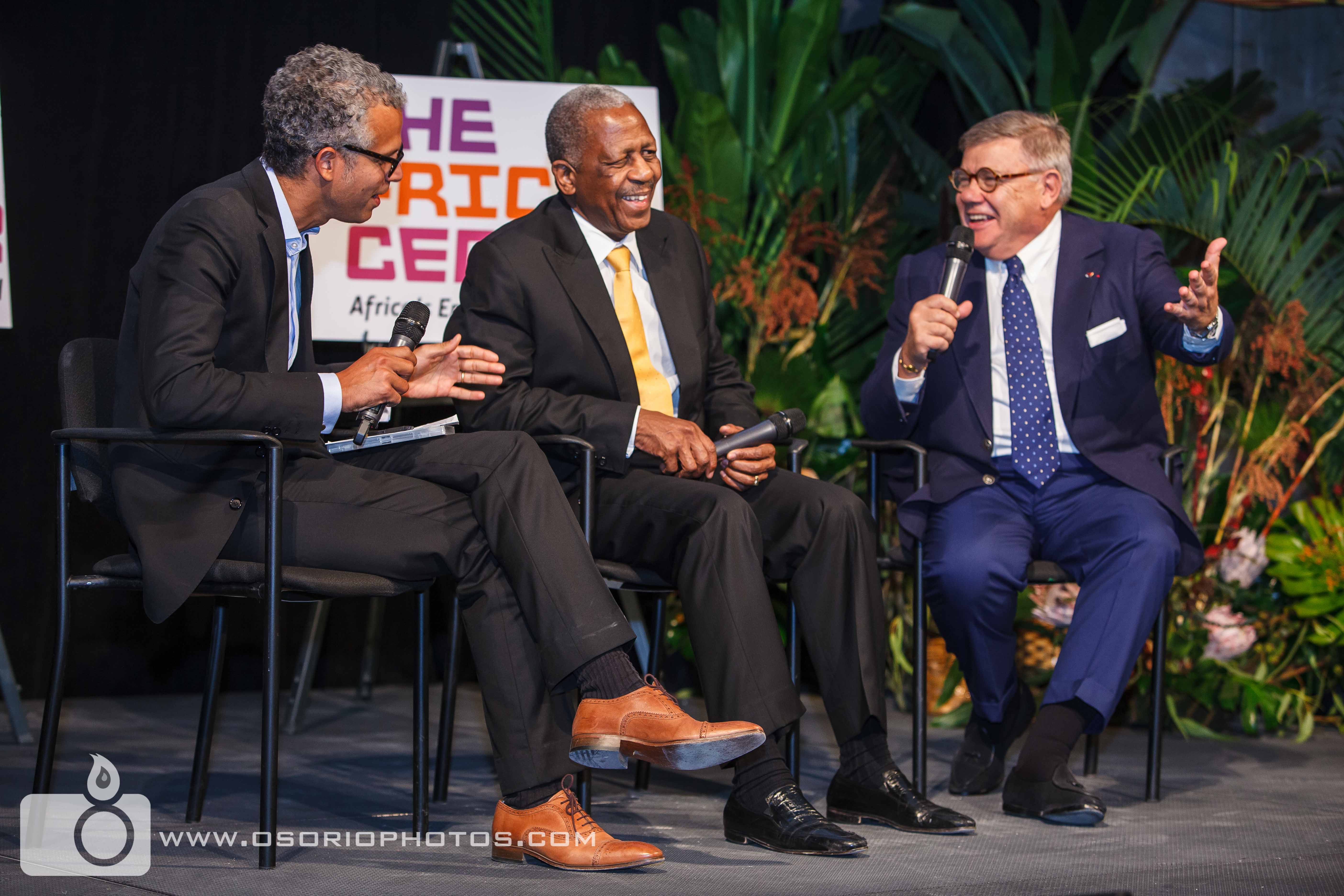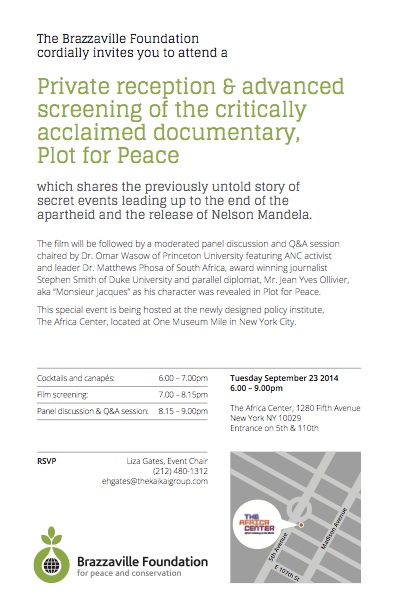 Plot for Peace is opening in the US this fall
The team behind Plot For Peace is determined to spread the fascinating  and inspiring story of Jean Yves Ollivier's efforts during the South African apartheid era and now, the US will be able to experience it as well. The film will be released in cinemas on 31st October 2014 (venues and dates will be added soon) with a number of high profile screenings and events alongside it. For more of the latest news and to support the US release, join us on the official Facebook page & Twitter! We will be there to answer your questions or reply to your comments.
Plot For Peace airs on SABC 2 on 28th September Part of Heritage Month & the celebration of 20yrs of democracy
Co-director and producer of Plot For Peace, Mandy Jacobson has produced a four part series through a successful collaboration with the Ichikowitz Family Foundation's initiative,  the African Oral History Archive (AOHA). This was the same initiative out of which Plot For Peace was borne and after a very successful theatrical run in South Africa, SABC 2 will be broadcasting the film to the public's homes on 28th September as a means to share these special narratives with the young and old in their journeys to find out about their country's rich albeit difficult past.
"Much of our history was politically sensitive, or subversive. Some of it has remained hidden and even forgotten. AOHA was created as a global effort to record and showcase the continent's acclaimed or unknown history makers, giving unprecedented access to all those who were at the heart of events that shaped South Africa's modern history," says Emmy Award winning Mandy Jacobson in bizcommunity.com
Plot for Peace will be screened alongside three other films making up the 'Rainbow Makers' series which " pays tribute to some of the champions that paved the way forward, towards the 20 Years of South African Democracy we enjoy today" and is close to every South African's heart, as was demonstrated by audiences' emotional reactions at the premieres in Johannesburg last July. (Scroll down to see pictures and read more about the film's premieres in South Africa). Former South African President Nelson Mandela said the following in a Heritage Day speech: "When our first democratically-elected government decided to make Heritage Day one of our national days, we did so because we knew that our rich and varied cultural heritage has a profound power to help build our new nation". We hope that Plot For Peace and the other parts of the series will spark your appetites to learn more. Jacobson's 'Rainbow Makers' will kick off on 14th September and Plot For Peace will screen on 28th September – programme your TVs. Find out more about the series read more here.
 SCREENINGS IN SOUTH AFRICA!
We're absolutely ecstatic that selected Ster Kinekor Cinema Nouveau cinemas will be screening PLOT FOR PEACE for TWO full weeks, providing South Africans in Rosebank, Cape Town, V&A and Pretoria the opportunity to watch the film that's won several awards internationally and is NOW HOME! For cinemas/screening times visit the official FB page fb.com/plotforpeace. Or visit the homepage.

On Thursday 25th July, Johannesburg witnessed a very special premiere of PLOT FOR PEACE.
The screening was followed by a panel discussion with extremely distinguished guests including members who featured in the film. Accompanying Jean-Yves Ollivier (aka 'Monsieur Jacques') , Mandy Jacobson (co-director + producer of the film), Ivor Ihcikowitz (founder + chairman of the Ichikowitz Family Foundation) were none other than Winnie Mandela, Pik Botha, Matthew Phosa and Wynand Tu Toit, all of whom had just been seen in the revealing interviews and footage of the film talking about historical events that went on 3o years ago. It was deeply touching and profoundly important for the viewers to see these powerful people meet after all this time.

Jean Yves Ollivier:

"Our Johannesburg  launch last night was extraordinary, to have Winnie Mandela and Pik Botha on the panel after the screening, together with Mathews Phosa and even Wynand du Toit. It was a historic night for me and very emotional, because during my efforts in the late 1980′s these people were enemies. And to see them hugging afterwards reminds me that reconciliation is possible and that all the efforts we made, inside South Africa and outside South Africa meant something special to us all."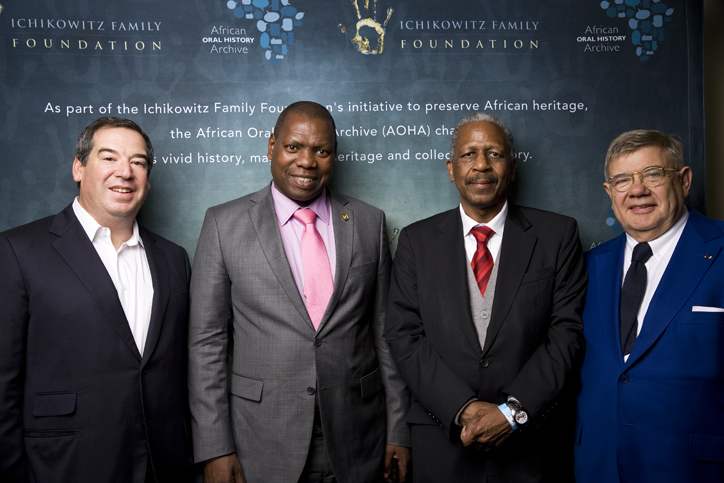 Audience member remarks: "Seeing Mama Winnie, sharing a stage with her former enemies in Pik Botha and Mr du Toit is an image that will forever stay engraved my mind." (Johannsburg premiere)
"To see former enemies, Pik Botha and Winnie Madikezela hugging. To be reminded of so much past history, to experience some of it firsthand. Indeed a proudly South African moment." (Johannesburg premiere)
Thanks to the 35th Durban International Film Festival, the film had two sold out screenings at the festival and featured as part of the AfriDocs Film Festival on DS TV along with other, receiving rave reviews from audience members. Visit the official facebook page for more audience reactions.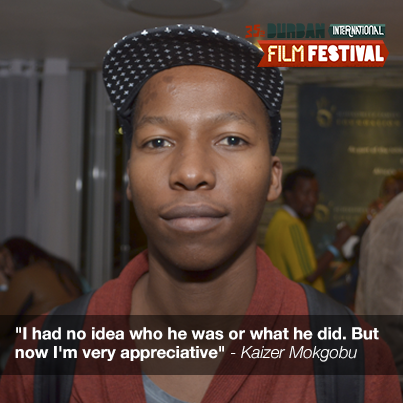 PLOT FOR PEACE IS COMING HOME! The film will have TWO premiere screenings on Wednesday 23rd July 18:00 + Friday 25th July 22:30 at the 35th Durban International Film Festival (17-27 July, 2014).  Each screening will be followed by a Q&A with Jean-Yves Ollivier, co-director/co-producer Mandy Jacboson of the Africal Oral History Archive and co-producer, Ivor Ichikowitz. We are more than thrilled to celebrate these two screenings at home – Book your tickets ASAP HERE - Don't miss out!


NELSON MANDELA DAY July 18th, 8pm – PORTUGAL PREMIERES PLOT FOR PEACE !
Organised by AfrikPlay | Filmes à Conversa ( The Afrik Play | A Film and a Chat), a series of seminars focused on screening documentaries presenting contemporary African realities, has chosen to premiere PLOT FOR PEACE as part of its celebrations of Mandela Day exploring artistic expressions academic debate and social solidarity. The screening will take place in collaboration with LARGO Residências, Intendente and the South African Embassy and will be followed by a Q&A with co-director Carlos Agullo.
Massachusetts (USA) are screening Plot For Peace at their 9th annual Berkshire International Film Festival on JUNE 1st.
Screening 75 films from 18 countries over 4 days between 29th May – June 1st, aimed at filmmakers and film lovers alike to be entertained, educated and inspired.

Plot For Peace has received the Official Special Jury Award First Mention at Argentina's prestigious film Festival, Festival Internacional de Cinema Politco (The International Festival of Political Cinema).  The film was recognised for its attractive portrayal of the international web of interests,  geography and personal passions that lay behnid the great political event for Africa and the world: the liberation of Nelson Mandela and the end of Apartheid.

PLOT FOR PEACE GOES TO TEL AVIV FOR ITS SCREENING AT THE DOCAVIV INTERNATIONAL FILM FESTIVAL for TWO SCREENINGS – 10th May (with special Q&A with Mandy Jacobson, Jean-Yves Ollivier + Michael Ledeen + 14th May (film only)
PLOT FOR PEACE PLAYS AT CANADA'S DOXA DOCUMENTARY FILM FESTIVAL – TUESDAY 6th MAY, 2014
Screening within the SECRETS & LIES category. Dorothy Woodend (Festival's Director of Programming) says: "With Mandela's passing on December 5th, 2013, Plot for Peace is a fascinating and timely look back at the secret, and often largely unseen, forces that move and shape history in the most unlikely of ways."